VMware Player/Workstation : Résoudre l'erreur 'disk error while paging'
Problèmes
Les symptômes : bien qu'arrêtée, la VM aparait comme 'suspend' (en pause), lorsque le restore est initié, un message d'erreur apparaît sur la fin.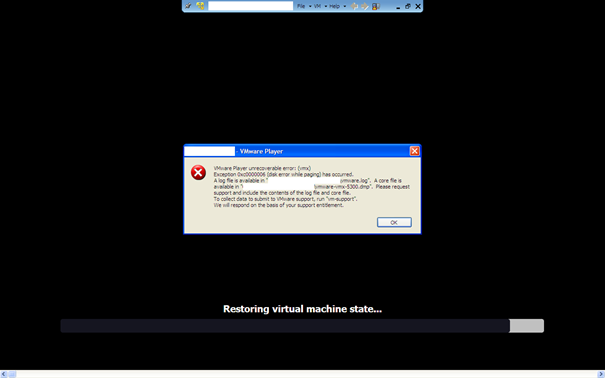 Le message est le suivant : "VMware Player unrecoverable error (vmx). Exception 0xc0000006 (disk error while paging) has occured. A log file is available in "….\vmware.log". A core file is available in "….\vmware-vmx-5300.dmp". Please request support and include the contents of the log file and core file. To collect data to submit to VMware support, run "vm-support". We will respond on the basis of your support entitlement."
Une fois le 'Ok' clique, un second message d'erreur apparait: "VMware cannot find a valid peer process to connect to".
Solution
Pour résoudre ce problème j'ai supprimé les fichiers suivants :
fichier .vmem

fichier .opt

fichier .nvram
Je n'ai pas essayé d'en supprimer seulement un ou deux, cela doit fonctionner aussi juste avec le .vmem et le .opt. Une fois supprimés, la VM démarre comme si windows avait été arrêté de manière 'sale' et donc nous propose de démarrer en sans échec … invite de commande etc …
La VM redémarre et les fichiers modifiés avant l'apparition du 'problème' sont toujours 'sains' mais je ne garantis pas l'opération pour un environnement de production avec des tâches qui tournent en permanence (problème rencontré sur une VM de test).
A utiliser à vos risques et périls.
wandelroutes