Starwind iSCSI SAN: Erreur IDS_APP_TITLE
                Symptôme: Le message suivant est affiché à l'ouverture de la console de Starwind iSCSI SAN.

IDS_APP_TITLE

The program encountered a serious error and may be closed. Crash dump will be created. Please, save the log file and report the problem to support@starwindsoftware.com
                Version: Starwind iSCSI SAN 5.8, OS:  Windows 2003 server r2
Solution: Il n'y a pas de fix à ce jour, le message d'erreur traduit l'impossibilité de lancer directement la console sur le serveur. En revanche on peut utiliser un autre serveur sous 2008r2 par exemple et y installer la console en choisissant juste ce composant lors de l'installation.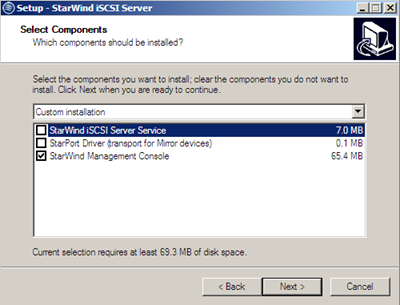 Ce problème devrait être fixé dans la prochaine version (la 5.9).
    Encore une fois, le service Starwind tourne correctement il ne s'agit que d'un problème d'affichage de la console qui n'altère en rien le bon fonctionnement du software iscsi san.